With integrated knowledge management and other functions, it can grow to become your most useful starting point. Even before the start of your new project, you can get useful information from the social intranet, more precisely from the profiles of other team members:
Cooperation in projects
Language skills
Program skills
Experiences with customers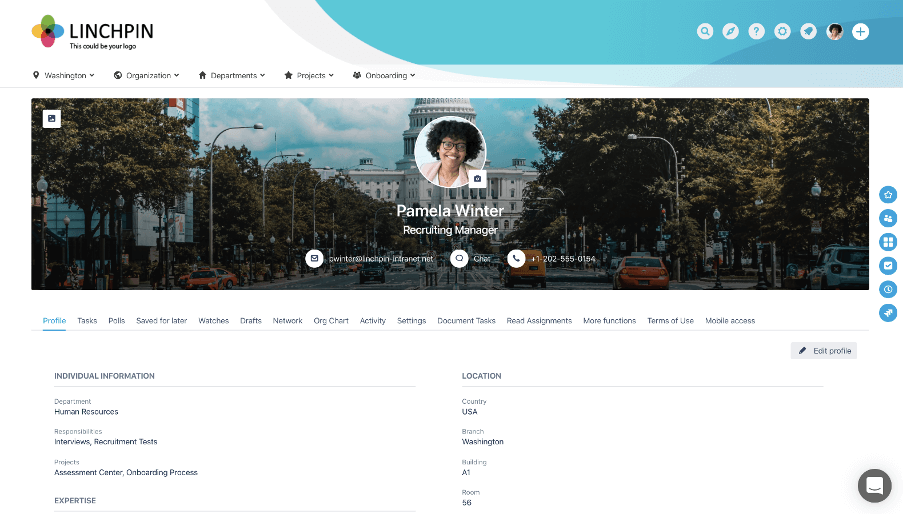 Figure 1: User Profiles
You can build your dream-team using all this information. If this is not possible because an employee works at a different location or is not available, you can still gain essential insights from previous projects. And you can find the necessary information on the project pages.
Make use of the data stored on the project page in the enterprise-wiki: meeting minutes, process reports, solution approaches, etc.
A Project Page for You, a Project Page for Me…
Have you already been able to gain essential insights from the experiences of similar projects in the wiki? Wonderful! Then it is best to return the favor and create your own detailed project page on your social intranet. This has several advantages:
1. Long-term
Other teams and, of course, you yourself can access all information at a later point in time. And you have gathered all this information in one central easy-to-find place.
2. Collaborative
All participants can work in the project area at the same time or asynchronously. Admittedly, it takes a little discipline, and the processes have to be clearly defined. But the interfaces to many other systems can make your work easier.
3. Integrative
In most cases, your social intranet offers you the option to integrate other systems via interfaces.
For example, documents can be integrated directly into the Confluence-wiki, and you can even edit them from the wiki.
Also, your Jira activities that are still in progress can be easily mapped, including their status.
If the project in scope is too complex for Jira, it is advisable to manage it using scaled agile software. Here you can map process steps and dependencies hierarchically down to the smallest task, whereby the weighted shortest job first (WSJF) principle can help.
If it is more about traditional or hybrid projects, a work-breakdown-structure (WBS), a GANTT-chart, or a project pipeline can also be dynamically integrated — e.g., via the Confluence interface of Planforge.
All stakeholders can view and evaluate progress and utilization at any time to any extent using reporting — a cross-team added value.
4. Staggered
If you have sensitive data in your project that should not necessarily be accessible to everyone on the internally public wiki-page, you can easily change the permissions for this page. Therefore only involved and relevant employees have access to this information.
From Project Page to Project Documentation
If aspects arise during your project requiring a decision, who is by your side? Right, your trustworthy social intranet, of course.
1. Questions only aiming at checking out a rough direction can first be clarified in the group chat of a project team. It is best to escalate further decision-making requirements in a public area, for example, in the microblog:
2. In these public areas, many participants can discuss the advantages and disadvantages of the decision.
Unqualified or even impolite answers remain limited because everyone can read them.
The rising productive participation instead brings about new and further perspectives.
3. Once the project is completed, the project documentation is due (especially not to be neglected during an audit or other validation). How practical that you have already filled the project page in the wiki during the project.
4. All that remains is to share what has been done and learned so that other teams can also access the documented experiences to receive further help from your expertise.
All thanks to your social intranet.
Would you like to find out more about what advantages social intranet can offer your company? Then request the new guidebook the social intranet from Martin Seibert free of charge and filled with hands-on experience and advice for implementing it in your company.