Stakeholder Definition:
A stakeholder is a person, group or organization that has a specific interest in a company activity. Stakeholders are usually directly affected by these activities.
Project Stakeholder Definition:
A project stakeholder is a single person, a group of people, or an organization that has a particular interest in a project. These parties are either directly involved in the project, or their interests are influenced by the project outcome. Project stakeholders are, for example, customers, employees, the government, shareholders, suppliers etc.
Stakeholder Management Definition:
Stakeholder management is about involving key stakeholders and identifying their needs and interests. These needs are incorporated into the planning and drought management (of a project or a company).
Why Is Stakeholder Management Important?

Projects bring changes and risks with them that must be accepted by the people involved, both internally and externally, because success is only achieved through quality AND acceptance. Rumors, reservations and misunderstandings can result from inadequate project communication and too little information. In addition, it is often difficult to properly position the project in competition with another project.
How Does the Stakeholder Analysis Work?
First, project stakeholders are identified and divided into groups.
Then the influence (high, medium, low), the interest (also high, medium, low) and the attitude (positive, neutral, critical) are determined.
Now the stakeholders can be easily visualized graphically and subsequently analyzed:
Stakeholder Analysis in the Eisenhower-Matrix:

On the X-axis the parameters of interest and on the Y-axis the parameters of influence are marked in the Eisenhower-Matrix. Afterwards, stakeholders are positioned accordingly and visualized with bubbles. The color of the bubbles depends on the attitude of the stakeholders.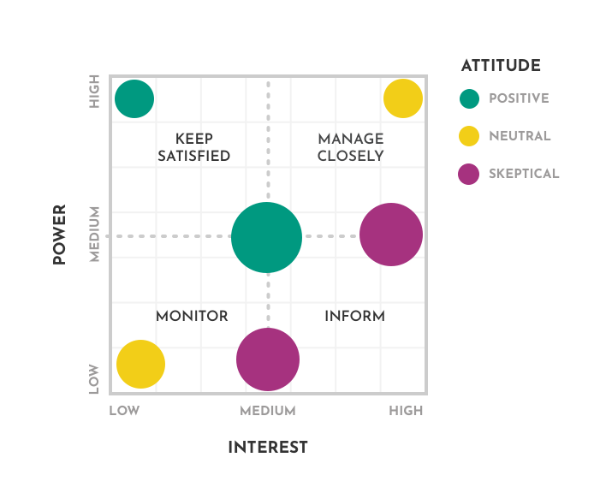 Stakeholders in the upper right quadrant need the most attention and regular analysis.
Stakeholders in the upper left quadrant should also not be overlooked, but their positive influence makes them less critical than the stakeholders of the upper right quadrant.
The stakeholders in the lower right quadrant should be kept informed about the project progress.
For the stakeholders in the lower left quadrant, it is sufficient to monitor them.
What Happens after the Stakeholder Analysis?
Once the stakeholders have been analyzed, the actual "management" of the stakeholders can start. First, appropriate measures must be defined. Similarly, a responsible person, and if appropriate, a due date should be set. Last but not least, the measures will be given a status so that the progress can be verified.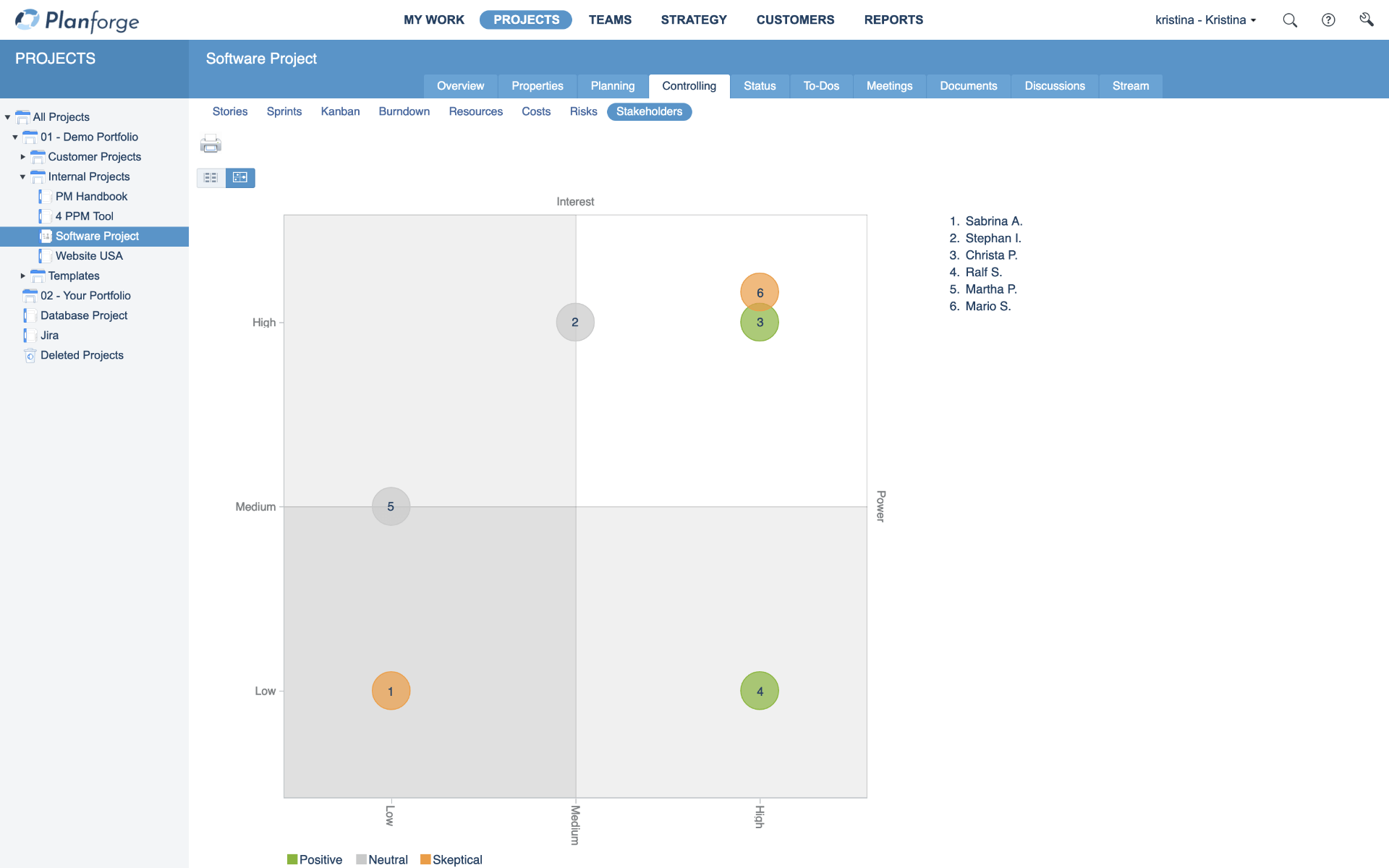 Stakeholdermanagement in Planforge
An ongoing stakeholder analysis as the project progresses, as well as the possible adaptation of measures and the addition of new stakeholders are essential to take full advantage of the stakeholder analysis.